Philippine fashion has a deep appreciation for the classics—and it's often that staple elements of our traditional barong Tagalogs and baro't sayas make their way into this generation's runway shows.
Last Saturday, Philippine Fashion Week featured 17 talented designers who showcased  mini-collections of burdang Taal, a finely detailed hand-embroidery technique that originated in Taal, Batangas.
Among the featured collections, those of Bergamo, Edgar Madamba, Vic Barba, and Dong Omaga–Diaz really stood out for their simplicity and their focus on the beautiful, traditional Taal embroidery.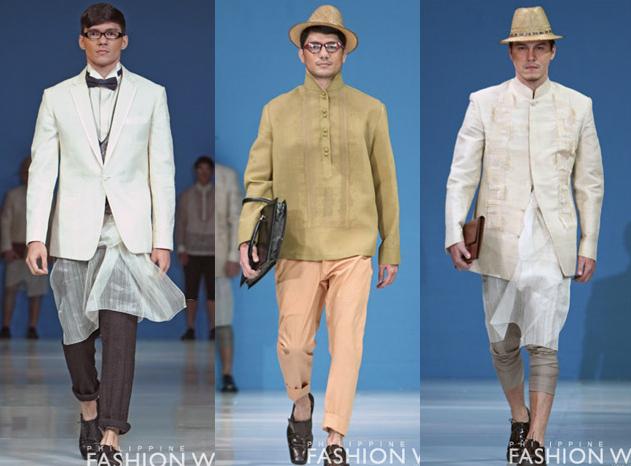 Bergamo gives casual menswear a traditional twist with the use of piña fabrics and classic accessories.
Bergamo's dapper style
Bergamo brought the piña cloth to the street with a 10-piece menswear collection featuring rattan hats, hipster glasses, bowties, crisp and clean blazers, envelope bags, leather slippers, and dress shoes that are surprisingly very Filipino.
The embroidery was treated minimally—positioned on the outfit without overdoing it. The dapper styling also really helped the success of the collection, incorporating fine lines and details with something more relaxed and easy created an aspirational image for the everyday gentleman.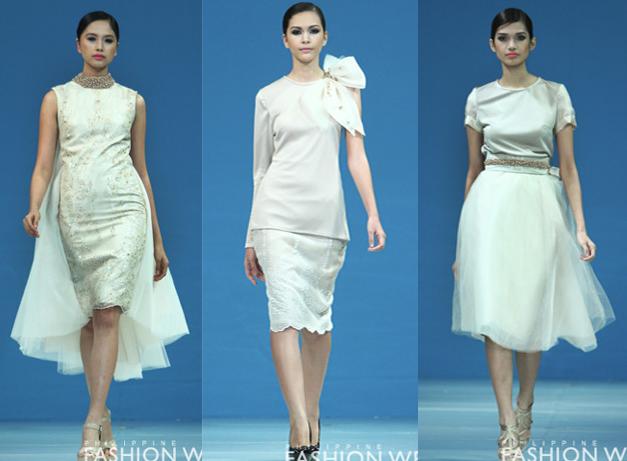 Dong Omaga-Diaz's mini-collection was dreamy and cohesive.
Dong Omaga-Diaz's dolls
Three models posed like life-sized dolls before they individually strutted their way on the ramp to showcase Diaz's three-piece burdang Taal mini-collection that really stood out for its cohesiveness.
The collection includes a stand-out dress with full embellishment on the neck, a one-sleeved minimalist casual chic ensemble with girly flowing ribbons on the left sleeve, and a dreamy and simple cocktail outfit consisting of a simple gray velvety top paired with loose white balloon skirt styled with an embellished belt wrapping the model's waist.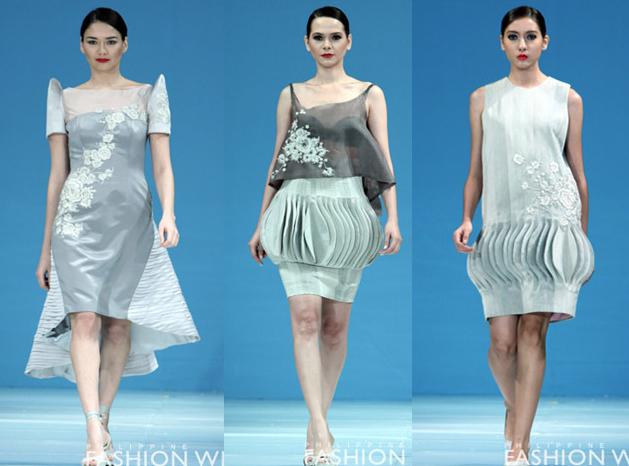 Delicate floral embroidery accentuated the simplicity of Edgar Madamba's collection.
Edgar Madamba's cool skirts
Madamba presented a very Filipina collection in hues of gray tones that exuded calmness and evoked images of the modern-day Maria Clara.
The designer's modernized simple silhouette two-colored cocktail terno with fine white flower designed embroideries complemented the fine textures on the skirt.
Other than that, he kept the treatment of the clothes simple and moving with a semi-sheer midriff top partnered with a pleated balloon skit and a simple gray dress with simple embroideries.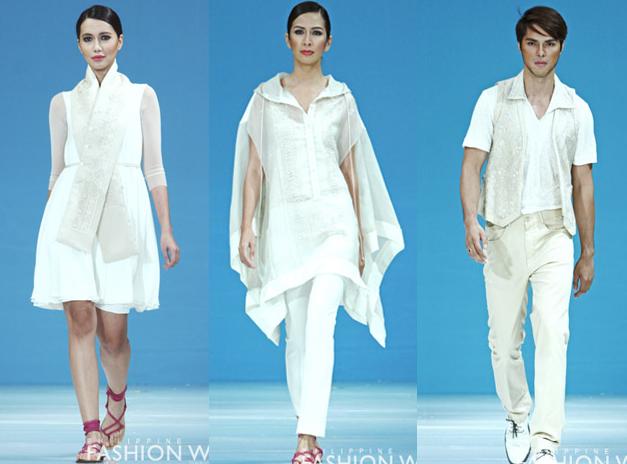 The burdang Taal lent itself well to Vic Barba's summery style.
Vic Barba's casualness
A silent collection with simple embellishments and patterns tends to stand out more compared to a collection with heavy detailing and over-the-top patterns.
Vic Barba's white and pearl burdang Taal collection showcased a wearable mini-collection— the clothes' fine tailoring vibrated a sort of cleanliness seen in his simple three-fourths white dress, barong Tagalog-like cape paired with white skinny jeans, and a simple menswear shirt, blazer, jeans, and oxfords ensemble.
Barba's collection has an easy-going touch that made his collection a success. The embroideries are not over-the-top and his styling left a summer vibe on the runway. — BM, GMA News
Photos from Philippine Fashion Week