After soaking in the history and culture of Batangas, get a taste of local cuisine in the cattle country but skip the ubiquitous bulalo and lomi joints scattered along the highway – there is much better fare to be had in traditional Taal food.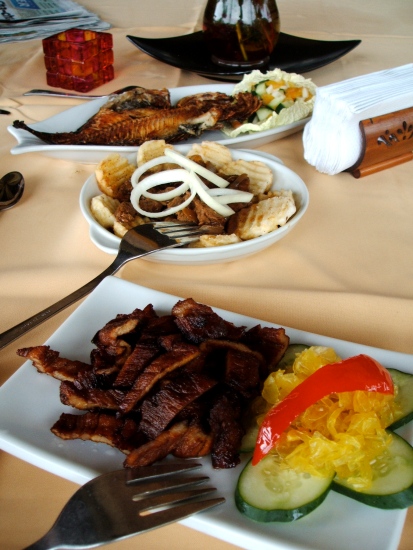 Glenda Villano-Tenorio, who manages La Azotea restaurant in the municipality of Taal, shares the secrets of her hometown's cooking. Unlike the usual tapa which is beef, tapang Taal is pork marinated in soy sauce, lots of garlic, and calamansi and fried to yummy perfection. Their version of bistek is made of tenderloin slices from Batangas beef, with potatoes on the side. The dinaing na tilapia is steeped in vinegar and garlic before it is fried to a crisp. For breakfast, these dishes are best washed down with a steaming cup of thick hot chocolate, a must-try in the province. Dessert specialties include mango balls in a creamy sauce with sago, served with the popular suman nilatik, sticky rice topped with coconut jam and toasted bits. The restaurant caters to local residents looking for fine dining options at reasonable prices in the rural area. The priciest item on the menu is the maliputo fish, which can cost more than P500 per order.
At the nearby Taal Bayview Bistro, manager Joseph Razon explains why the fresh water fish from Taal Lake is a prized delicacy. He says it is not available in the market and can only be bought in San Nicolas town at 600 pesos per kilo from reliable suppliers. Joseph gave us a taste of the delectable fish for lunch with sinigang na maliputo paired with adobong manok sa dilaw, another Taal specialty cooked with turmeric instead of the usual soy sauce and vinegar mixture. There was also deep-fried tawilis from the lake and a salad of tomatoes, green mango, and eggplant with bagoong Balayan, also a Batangas specialty.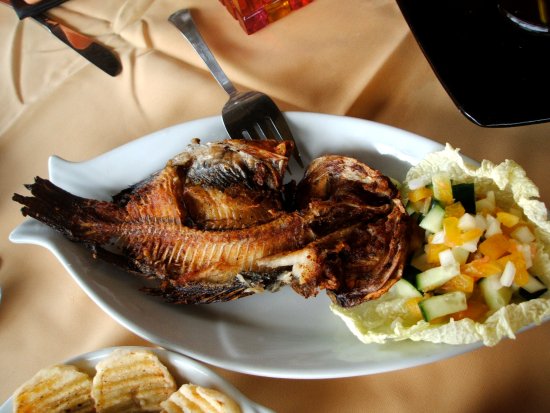 One of the local traditions dominated by women is the production of panutsa or whole peanut brittle. Shelled peanuts are mixed with brown sugar and water and continuously stirred for 30 minutes in a huge vat called talyase over an earthen stove. A teaspoon of citric acid is added before the mixture is poured into round molds made of bamboo, left to cool for 15 minutes, and then wrapped in plastic. The women in the assembly line have to work fast to prevent the caramelized treat from hardening and cracking on the table. Still, they find time to exchange jokes while keeping their hands busy in the open air shed, unmindful of the bees hovering above them. Small packs of panutsa are usually bundled in threes and sold mainly inside bus stations.
Dindo Montenegro, an old-timer and cultural stalwart in Taal, says the panutsa took its round shape from the original practice of putting the mixture inside coconut shells. Sugar and peanuts used to grow abundantly in Batangas, which gave rise to the tradition. Sadly, he says the loss of farms has meant that panutsa makers now have to source their peanuts from Divisoria.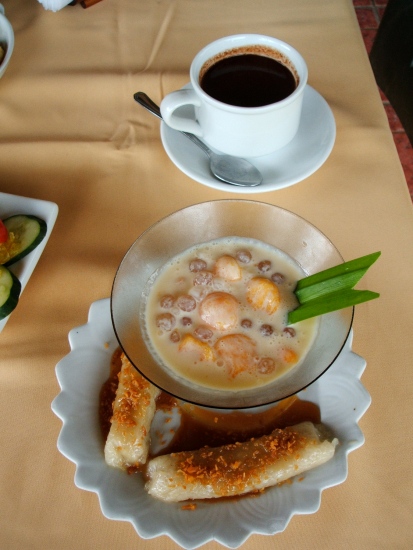 Any food trip has to end at the public market, where tapang Taal and longganisang Taal, also a local specialty, are sold. I noticed many locals flocking to a stall that sells empanadang gulay, stuffed with local vegetables and vermicelli that didn't quite agree with my taste buds. For pasalubong, there are small bags of chocolate balls and suman that will fit easily in your recyclable bags. – GMANews.tv